Lead stories
Scenes from Marion County Fair

The Boomer and Senior News stops by a once a decade event held in Lebanon, Oregon: The Oregon White House Conference on Aging.

Boomers and Seniors show off their dancing skills.
Boomer & Senior News on Youtube

Featured content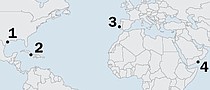 How up to speed are you on news and current events?
---
Upcoming events
I'm back from vacation! Hope you're thriving! Speaking of being back from vacation... Ever been so broke that you scraped under the sofa cushions or hit your kid's piggy bank for loose change? I was so broke once that I scraped my cute-little-treasures drawer to get four silver dollars that ...

Pillow Talk: Sensual and Sexual Vitality after 50

Remaining sexual and orgasmic beyond menopause is a viable choice, contrary to cultural messaging, and use of bioidentical hormones (unless medically contraindicated), vibrators, and erotica can go a long way to helping retain orgasm strength. If sexual touch is no longer desired, it is important for people to get regular non-sexual touch to stay healthy, and to feel vital, valued and loved.