Lead stories
Scenes from Marion County Fair

The Boomer and Senior News stops by a once a decade event held in Lebanon, Oregon: The Oregon White House Conference on Aging.

Boomers and Seniors show off their dancing skills.
Boomer & Senior News on Youtube

Photo gallery
Featured content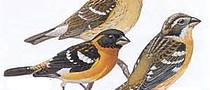 Identify 10 Oregon birds for a chance to win $50!
---
Upcoming events
Ten animals live longer than 140 years. Ocean quahogs average 400 years. Bowhead whales, 211. Rougheye Rockfish, 205. Red Sea urchins, 200. Galapagos Tortoises, 177. Shortraker rockfish, 157. Lake Sturgeons, 152. Aldabra Giant tortoises, 152. Orange roughies, 149. Warty Oreos, 140. A quahog is a clam. A Warty Oreo is ...

Even bright, aware people can be pretty dim when confronted by an unusual situation. Or just plain tired and stressed. Not that I'm all that bright and aware after a full day's work and a night of volunteering-- and the only one on duty after 10 pm. This particular night, ...