Lead stories
Scenes from Marion County Fair

The Boomer and Senior News stops by a once a decade event held in Lebanon, Oregon: The Oregon White House Conference on Aging.

Boomers and Seniors show off their dancing skills.
Boomer & Senior News on Youtube

Photo gallery
Featured content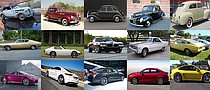 Can you match the car makes and years to the pictures?
---
Upcoming events
You may want to read the article first. https://www.yahoo.com/parenting/carrie-underwood-breaks-into-car-after-locking-123985136667.html The meat of the article is this section: "How could I be so absent-minded? But now I've learned this happens all the time." For parents who find their kids locked in the car, especially during the summer, time is of the ...

Nothing like a little ego-jostling to keep a person humbled. Back when time-share condos were being marketed with great aggression, my sister and I went to hear the spiel and collect the reward...a swell Felix the Cat clock. Felix's tail wagged and his eyes moved as the tick-tock ticked. Felix ...