Lead stories
Scenes from Marion County Fair

The Boomer and Senior News stops by a once a decade event held in Lebanon, Oregon: The Oregon White House Conference on Aging.

Boomers and Seniors show off their dancing skills.
Boomer & Senior News on Youtube

Featured content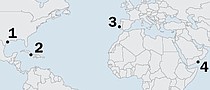 How up to speed are you on news and current events?
---
Upcoming events
Pillow Talk: Sensual and Sexual Vitality after 50

Not all women or couples want to continue having intercourse as they age. But for women who do, keeping libido charged and maintaining the health of pelvic floor muscles is vitally important. In this post, I address these two aspects of maintaining or restoring vital sexuality after menopause.

Wanna buy a nuclear plant? CNBC and the Associated Press reported on 05-05-16 that the nation's largest public utility is selling a NEVER COMPLETED nuclear plant that has cost more than $4 billion over the past four decades. N-n-n-n-nuclear... F-f-f-f four billion... B-b-b- billion. Four decades. Started prior to 1976. ...