Lead stories
Scenes from Marion County Fair

The Boomer and Senior News stops by a once a decade event held in Lebanon, Oregon: The Oregon White House Conference on Aging.

Boomers and Seniors show off their dancing skills.
Boomer & Senior News on Youtube

Featured content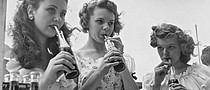 Remember when the cost of a postage stamp was less then a Nickel, When the King ruled and you could ...
---
Upcoming events
It's past time that we admit we are pikers. PIKERS!!! Chump change in the cash register drawer of life. A joke in the field of brazen international crime. Sure, the 2009 tanking of our entire national economy and the wreck of the Tinker Toy structure of the first-world financial webwork ...

Don't Pass the Microdot to This Person It seemed like every spy movie or TV show, for several years, involved getting or hiding a microdot. Brave heroes and heroines were tortured, sometimes killed, to get the location of one. Arabesque, 1966, and You Only Live Twice, 1967, prominently feature them. ...