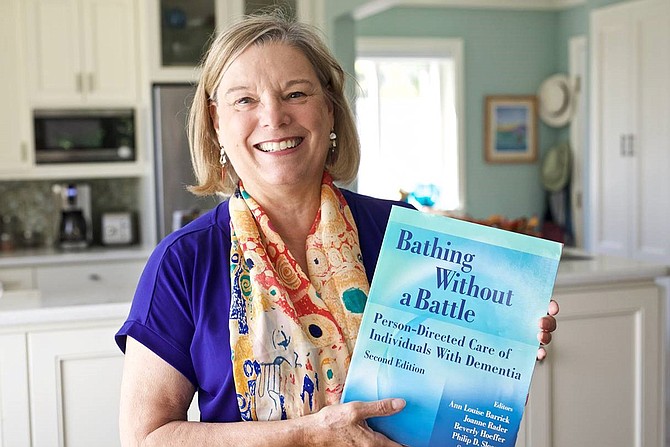 Geriatric nurse Joanne Rader's passion and devotion for people with dementia and their families has led to policy changes on the national level that bring comfort to the afflicted.
"Forty plus years ago, we knew nothing about dementia and the cause … we still don't," she says. "How care-(givers) dealt with dementia was to literally tie them up in their beds, in wheelchairs, in homes and in hospitals."
If a patient with dementia would not follow directions, they were told to go home, she says. "No one understood what was going on. In hospitals, people were hurting (patients), unintentionally of course. Caregivers and family expected people with dementia to follow direction, to understand, not to engage in unusual behavior, to act as if they didn't have dementia," Rader says. "Sometimes, they still do."
She says the healthcare system was not prepared to understand that people with dementia have lack of insight, poor memory and poor judgment, and that they can't help their behavior.
"But they have rights," Rader says.
One area of particular interest for her is hygiene for people with dementia. Some do not like getting into a shower and they fight it by kicking, biting and hitting their caregivers.
"We label that 'aggressive behavior' instead of looking at it from the dementia perspective, as self-defense, trying to protect oneself," she says. "Some don't know or recognize who is touching their private parts, taking their clothes off. They feel they are being attacked. Under traditional medical care, it was thought their behavior was their fault and nurses would call a doctor to medicate, dope them up to stop. Staff was stuck in a model."
Instead, Rader and others thought to see the behavior as a symptom of a need not being met, rather than a problem.
This led to her part in a research study with OHSU and the University of North Carolina to decrease anger behavior during bathing.
As a geriatric nurse specialist, her team came up with alternate ways to clean patients that took no more time with the same results. It was published in the Journal of the American Geriatric Association.
"Showering in a tub or shower was a societal bias on the part of the contemporary culture," Rader says, explaining that the new method, called a towel bath, never exposes a person to nakedness, is soothing, and occurs in a person's bed. The result was that it cut aggressive behavior in half.
"It was like a spa," she says. "Now nurses hear 'Ohhh, this feels so good,' and it is calming."
Changing perceptions
That is just one example of ways in which her effort to change the system to a more compassionate approach has produced results.
"This approach takes no more time or money, it's a different mindset," says Rader, who believes in thinking outside the box.
Following the bathing study, researchers produced video clips on the procedure, and mailed them to Alzheimer's facilities throughout the country in an effort to educate families, and hospital and nursing home staffs.
Rader pushes for improvement in quality of life for both caregivers and patients. "It is now policy with official guidelines," she says. "Patients are asked if they have a choice of how and where they are bathed. However, this procedure is not as common as I would like. Beliefs are stronger than data-based research."
Rader's pleasure is interacting with others. "I see the soul of the person," she says. "I see the hurt and the fear. It takes very little to make a huge difference in the quality of life. Dementia is a taxing, complex disease."
Influenced for good Rader says she was encouraged to follow her dream of becoming a nurse by her sixth grade school nurse, although she's not sure how the nurse knew about Rader's career aspirations.
Initially she did not have confidence she could succeed in college but with some supportive friends she enlisted in the Army to pay for her education. There was a new program that paid for four years of college after two years of duty. She left as a second lieutenant, and completed her clinical practicum and residency at Walter Reed Medical Center.
Rader's original interest in physical therapy led to a job at a long-term-care nursing home serving the indigent in Washington, D.C., and it was there "I fell in love with elders."
She was heavily influenced by an African American woman she met who had suffered a stroke. "She had a presence about her that was so incredible that I decided I wanted what she had, a sense of peacefulness and compassion in the face of overwhelming loss and trauma," Rader says. "She had lost two sons to street violence. Despite all that, she maintained her essence, her soul and her spirit."
Finding allies
Through a series of circumstances, Rader drew her lucky card. She ended up in Oregon at The Benedictine Nursing Center (now Providence) in Mount Angel, where nurses were innovators in teaching how to care for elders. Her mentors were Sister Marilyn and Sister Gemma.
Sister Marilyn was the administrator at Benedictine, and had earned her geriatric degree at Duke University. She had a national reputation for her "incredible rehabilitation work."
Here, compassionate care practices were encouraged and their results were often printed in national nursing and geriatric journals.
"We learned or taught that how you listen, how you ask questions, is how to understand the underlying emotional needs of the patient and how to work with them to give them the best care," Rader says.
What she found is that people need to be needed instead of being tied down, and "the goal is to determine the emotional need and meet it, and for restraint-free caring. The goal has been to find ways to increase quality of life by encouraging new approaches and systems that support it."
Rader is one of the founders of The Pioneer Network, a national organization that advocates person-directed care. It is a movement to change the culture of long-term care. She is an advisor and does consulting in some schools of nursing as well as volunteering to teach at Alzheimer's associations and networks. By request, she teaches at national organizations and co-authored an article on wheelchair seating for fragile elders with articles published in professional journals for physical therapists.
From the Army, to a few "hippie" years with a first husband traveling in a van and exploring the country to a leader in elder care, Rader now mentors others as she was mentored as a young nurse.
The little girl in the sixth grade who had already decided she wanted to be a nurse and the 70-year old woman she is now, has not lost her caring nature. She still speaks about preserving people's dignity with the same conviction.