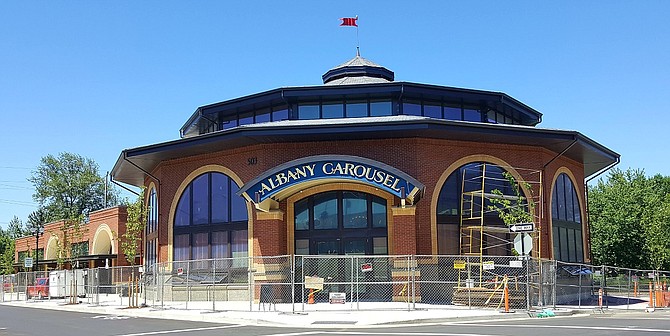 After 15 years of planning, carving and assembling, the Albany Historic Carousel and Museum opens Aug. 15.
There will be a grand opening from 10 a.m. to 7 p.m. for "kids of all ages," to celebrate the long-awaited, 22,000 square foot, state of the art facility, located at the corner of 1st Avenue SW and Washington Street SW in Albany.
The Carousel Board will host the celebratory ribbon cutting as a means of acknowledging and thanking the community for their tireless support toward completing this spectacular project – and to officially "open" the carousel facility.
"This is not just about the carousel," says Carl Baker, lead engineer. "It's about the community – so many people working together – that's what this carousel is about."
The building will open immediately following the ribbon cutting, and stay open until 7 p.m., Guests will be treated to a free ride. A boarding pass will be given out to each guest on the day of the event and it needed to ride the carousel on Aug. 15. Free snacks, outdoor entertainments and kids activities will be available until 1 p.m.
The carousel and museum is overseen by a nonprofit volunteer organization dedicated to building a traditional carousel in Albany's downtown historic district. This project is the centerpiece of the downtown revitalization effort.
This grassroots project has been serving as an anchor for the Historic Downtown Commercial District and has gained attention and support each year with more than 200,000 volunteer hours documented. Sponsors, donors and grantors continue to show their support through financial contributions, bringing this community project to fruition. More than 2,000 visitors on average visit the carousel project each month.
The carousel project began in 2002. Carving officially began on June 7, 2003. It has taken more than 14 years to complete, with all work done by hand by volunteers of all skill levels. The tradition will continue with additional animals to complete and repairs that might be needed.
No experience is necessary to volunteer, but you must be at least 14 years old. Volunteers are needed for all phases of the project, including carvers, office helpers, gift shop sales, concession sales, carousel operators, paints, sanders, fundraising and organizers.
Send an email to albanycarouselvolunteers@gmail.com to find out how to become a volunteer. To learn more about the Albany Historic Carousel and Museum, visit albanycarousel.com.
The carousel building will be open from 10 a.m. to 7 p.m. daily.
"This is a place you can come to, where you don't need to spend a lot of money," says Wendy Kirbey, whose dream sparked this project. "You can bring your family and see something really spectacular and just spend an afternoon having fun. You don't see a carousel like this every day."