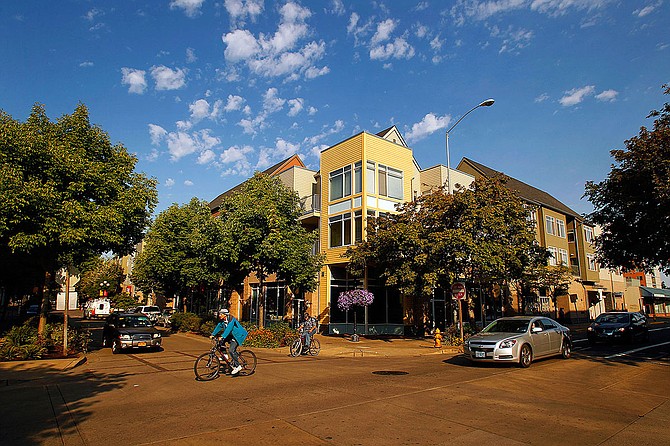 On a cold and rainy winter day — or freezing and icy, as this year has gone — waiting for a bus or walking some distance to the grocery store or a doctor's appointment is not a very enjoyable thing to do.
Eric Brown, assistant planner with the City of Eugene Planning Department, understands this. That's why livability is a big part of the city of Eugene's "Envision Eugene" project, which seeks to help Eugene plan and grow for the future.
"Envision Eugene started in 2007 with a state mandate to separate the urban growth boundaries of Springfield and Eugene," Brown says. "Eugene still has not adopted our own UGB. We still share a UBG with Springfield."
An urban growth boundary, or UGB, is a line around the city that defines where growth can take place. The outside of the UGB is protected for farm and forest land, while growth and construction is permitted to take place, with regulations, inside the UGB. The city establishes zoning for everything within the UGB, which is essentially Greenhill Road to the east and I-5 to the west.
Since 1982, Eugene and Springfield have shared a common UGB. "That caused some administrative problems and political problems as well when one city wanted to grow and the other didn't," Brown says.
The UGB process
In 2007, the Oregon Legislature passed Oregon House Bill 3337, which mandated that Eugene and Springfield each establish its own UGB to accommodate projected population growth. In 2008, the Eugene City Council oversaw the Eugene Comprehensive Lands Assessment, an inventory of residential, industrial and commercial lands, as well as land for public uses such as parks, open space and schools.
In 2010, Mayor Kitty Piercy and other city staff felt that the process should be community-driven.
"Kitty Piercy saw this as an opportunity," Brown says, "to do the administrative procedures to separate our UGBs but also have a conversation in Eugene about what kind of community we wanted to grow into. How do we see ourselves? What do we want it to feel like and look like in the city 20 years down the road?"
UBG planning happens in 20-year increments, which is why the UGBs of our two towns have yet to be separated. State law requires that a city plan for 20 years of growth, Brown says, so when the plan is presented it demonstrates a thorough understanding of how the population and demographics will change over a 20-year period and how the proposed plan accounts for all of that.
Eugene is forecast to grow by 34,000 people and 37,000 jobs by 2032. In order to develop a UGB that would meet a 20-year plan, the parties had to identify how much land we would need for 20 years of population growth. To do that, they had to look comprehensively at how much land there already was, that was either vacant or underutilized. Based on how much we needed, how would we find more land to make up the difference? The answer to this last question involves either bringing new land into the UGB, using land more efficiently, or a combination of the two.
"These processes just take a long time," Brown says. "They're hugely administrative. There are all kinds of findings we need to establish to say why we're expanding in one direction and not in another."
The seven pillars
Piercy's community visioning project took the opinions and needs of business leaders, neighborhood associations and the general public into account.
"We started out with listening sessions," Brown says. "We brought in a consultant who facilitated a process of deep listening where community members listened to each other about their dreams and aspirations for the community. Throughout the course of Envision Eugene we've used workshops, questionnaires, sounding boards, community stakeholder advisory groups and all sorts of different methods."
That conversation established seven pillars to guide the UGB planning. The seven key concepts are:
Provide ample economic opportunities for all community members.

Provide housing affordable to all income levels.

Plan for climate change and energy resiliency.

Promote compact urban development and efficient transportation options.

Protect, repair and enhance neighborhood livability.

Protect, restore and enhance natural resources.

Provide for adaptable, flexible and collaborative implementation.
"We've established these goals and priorities within Envision Eugene and we want to make sure as we implement the plan, that we are moving towards those objectives," he says. "The population growth will change, the cost of housing will change, our climate will change — all these things will happen over the course of the 20 years we are planning for. We're monitoring this to make sure that our policies are achieving these goals."
How this affects real people
One pillar most relevant to older adults is compact growth and efficient transportation. Getting to the grocery store or a doctor appointment, for example, can be hard for anyone, but particularly if you don't drive and have health issues. Not to mention, doing fun things like going to see a movie or visiting with friends on the other side of town, can be too much.

Brown, a young Canadian who received a master's in urban planning from Simon Fraser University in Vancouver, British Columbia, in 2014, earned his thesis by studying smart growth and compact growth.
"With an aging population, we're also going to see a trend to more compact living," he says. "Older folks do want to live in neighborhoods where they can walk to grocery stores, walk to a pharmacy and get to doctor appointments without relying on a vehicle."
Healthy, active older adults have a high demand for communities where they can walk and bicycle. "One of the pillars of Envision Eugene upholds that," Brown says. "Compact development and efficient transportation speaks to that value of getting housing where the services and shopping needs are."
(Part 2: How will the urban growth boundary change over the next 10 years, and what does Eugene expect to do with housing and transportation?)