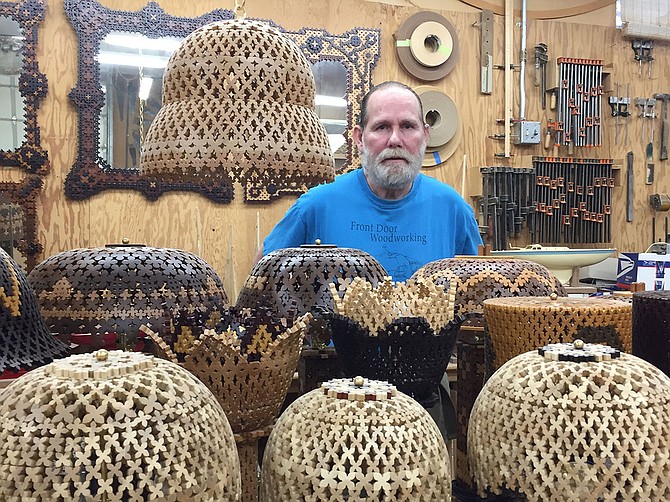 Roger Beck has 4,000 square feet of space in his wood shop, but only 248 square feet in the housetruck he used to live in.
One section of his woodshop is devoted to lamps fabricated out of small wooden tiles glued together, a past-time which Beck considers therapy for his Parkinson's, because of the fine motor skills they take to create.
He doesn't move around very quickly, though, because his Parkinson's keeps him somewhat off balance. Dealing with Parkinson's and mastering a new skill three years ago at the age of 67 when he started making the lamps is just the latest chapter of the interesting life Roger Beck has led.
"I'm a wild and crazy guy," says Beck with a wry laugh. You know he's not really joking.
The housetruck days
Although he still has the 1952 Federal five-ton housetruck parked in the side yard of his woodshop, he and his partner, Ruth Wilday, live in an actual house now.
After years of living out of his housetruck — one of four he built in the late 1960s and '70s — and supporting himself by selling stainless steel wire jewelry, Beck settled down in Eugene to start a family.
He was born in Los Angeles and worked in movie studios there, helping to build movie sets. Even then, his anti-establishment attitudes caused him some drama. He helped create sets for movies like "The Great Train Robbery" and "They Shoot Horses Don't They?" but the older guys didn't like his ponytail — which he still has.
He planned to move to Canada, where he felt he'd be more accepted with his ponytail. He lived out of his series of housetrucks, and sold his wire jewelry at the Oregon Renaissance Fair, which went on to become the Oregon Country Fair. He even sold at the first Saturday Market in 1970.
He continued traveling around the Northwest, attending fairs and festivals, and by all accounts, making a good living. He could sell $1,000 or more of merchandise in a single weekend, then have little overhead other than food and gas to get to the next city.
Along the way, he documented the other housetrucks and converted buses he found.
Eventually, he taught himself how to use Photoshop and used his skills to self-publish a book about housetrucks called "Some Turtles Have Nice Shells," complete with pictures and stories. He's sold all but 900 of the 4,000 copies he printed.
His jewelry and his housetruck lifestyle even led him to be part of the Lane County Historical Museum's 2010 exhibit "Tie Dye & Tofu," which was about life in Eugene during the 1960s and '70s.
Rediscovering the wooden tiles
When Beck first settled in Eugene nearly 40 years ago, he took a job at a cabinet shop, where he could perfect his trade. After six years, he opened his own shop, where he's spent most of the last 30 years.
A year and a half before his marriage failed, Beck accidentally cut off his wedding ring finger and his left pinky finger with a table saw. He's now been with Wilday for 24 years, and they don't have plans to marry, although they remain committed to each other.
Somewhere along the way, Beck had made a placemat out of wooden tiles. "I had forgotten about it for years," he recalls. "I put it away because it wasn't flat. It had rolled up and I didn't think I could do anything with it," he says. He came across it three years ago and, this time, saw it in a new light.
"I had an 'a-ha' moment," he says. "I wondered what else I could do with these tiles."
Through some trial and error he developed a system of taking wooden scraps from his cabinet business and routing them to create either rounded or pointed edges in different sizes. He tapes together the shaped pieces and then saws them into pieces about the thickness of a wooden Scrabble tile.
"I don't know why I started wanting to work with the tiles," he says. "I just did. I took an old bowl and glued some of the tiles onto it to make a lampshade." He hasn't stopped making them, and now has had a gallery showing of his lamps and a permanent for-sale selection of his lamps at Brighter Homes, a lamp store in Eugene.
He uses thrift-store colanders, mixing bowls, paint cans and flower pots to make shades of various sizes and shapes. "Everything I can come up with to give me a different shape or size," he says. He makes a starting point, then sketches out the geometry of the shape to ensure he gets even rows.
The lamp shades are surprisingly tough. You can squeeze them with no harm done. "You can't drop it, though," Beck says with a laugh that comes from experience. "Then it's just like an eggshell. You get the rigidity out of the dome shape and they actually hold up really well."
The bases are also made from the tile, in either rounded shapes made from gluing tiles to PVC pipe or squared off, mitered shapes. He's even made floor lamps. Other tiles become vases for dried flower arrangements, picture frames, large wall mirror frames, coasters, wall sconces or clock faces. Long wooden strips from the cuttings are glued together to form colorful clipboards.
When he first started making the lamps, he hand-sanded each piece, then quickly realized that would not be a good use of time.
Wilday came up with the idea of putting the tiles in a cloth bag and shaking them. They figured out that tying up the tiles in a pillowcase and putting them through the spin cycle of a washing machine does the trick. Once the lamps are done, he sends them to a local shop to be lacquered.
Lamps as physical therapy
Each of Beck's lamps contains 500 to 2,000 individual pieces of wood in colorful combinations, such as vermillion, yellow heart, purple heart, wenge, ash, zebra wood, red oak, white oak, cherry, maple, walnut, alder, ebony and Brazilian cherry. One large vase made from a flower pot shade holds 14 different species of wood in as many colors in a circular pattern. When alight, the shades throw beautiful patterns on a wall reminiscent of light shining through wooden lace. The tedious nature of making the lamps has turned out to be a blessing, because Beck believes his motor skills have stayed strong despite the Parkinsons's diagnosis seven years ago.
"I look at the lamps as physical therapy because I have to do the fine detail," he says.
Now 70, Beck is trying to retire from the cabinet business, and hopes that the lamp making is what he can soon focus on.
Still, he's not in a huge hurry to give up his cabinet business, which employs him and two others. He enjoys talking about his tiny parrotlet named Nickel who used to fly around the woodshop office until it recently died.
The woodshop office also houses his large collection of heavy-gauge stamped steel cars, airplanes, trucks and boats, and a smaller collection of metal tins that once held zinc oxide tape.
"Zinc oxide tape started out as adhesive plaster tape which was made in 1887 and used to come in these tiny metal tins," he says. Remember when he said he was a wild and crazy guy?
He has six or eight contractors who utilize his services for their new home constructions and he takes business from referrals.
"I promote myself as an artist who is a woodworker who builds cabinets because they pay the bills," Beck says. "But the cabinetmaker doesn't cut corners because the artist won't let him. I'm very proud of how I put my cabinets together."