Can sustained social interaction, even through a web-based computer interface, prevent or slow cognitive decline in seniors?
For the first time, people wanting to make a lifesaving difference in the Salem area can donate platelets at the American Red Cross Salem Blood Donation Center.
With the downsizing of the Armed Forces in 2008 and 2014, Veterans Affairs has been inundated with an influx of veterans. Along with this influx, Veterans Affairs reported in 2012 that veterans' suicide rates have increased with 22 veterans committing suicide each day. Seeing the great need, Samaritan Health Services has launched a program that provides advocacy to our veterans and their families.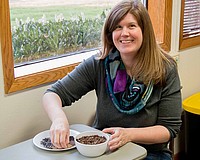 Food fads seem to take up a large portion of today's conversations about eating. There are trends seeking fusion cuisines, massive numbers of people taking photos of their food, and blogs discussing foods and fads.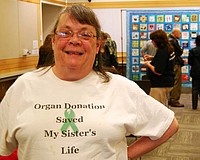 Aimee Adelman was born with cystinosis, a rare metabolic disorder that damages various organs in the body. By the time she was a high school senior, she needed a kidney transplant.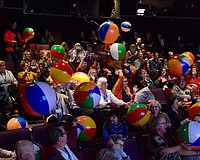 When Bobby McFerrin sang his upbeat '80s tune, "Don't worry, be happy," we all sang along. His words reminded us to lighten up and enjoy life. But inside, we may have been wondering: How?
When getting ready for bed, good health habits mean brushing your teeth and washing your face. But what about when you're tucked in and just can't seem to fall asleep no matter how many sheep you count?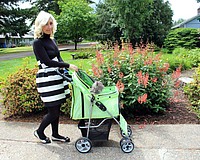 Pet owners know first-hand that dogs and cats love unconditionally; they are there when the person needs a hug or a smile. This love and acceptance make dogs and cats ideal therapeutic visitors for the elderly and disabled in nursing homes and care facilities.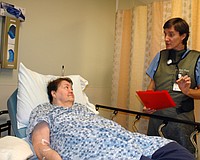 Sarah Gradis' patient was an older woman experiencing chronic pain, primarily in her back and legs. The woman was independent, lived on her own and was reluctant to ask her family for help with everyday tasks. But she was having difficulty with things like housework, and was feeling increasingly isolated and concerned she might fall.
Listen to your heart sounds
Heart disease is still the leading cause of death in the United States. But there are many ways to prevent and proactively treat it. It's time to educate ourselves on being in tune with some silent indicators of heart disease.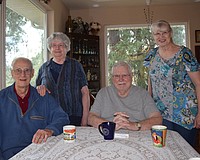 When Sherm Sallee's doctor asked if he was watching his carbohydrates, he replied, "Sure. I watch the maple bar all the way to my mouth." Since receiving a diagnosis of pre-diabetes and taking the Diabetes Prevention class at Samaritan Lebanon Community Hospital, Sherm has taken the maple bars out of his diet.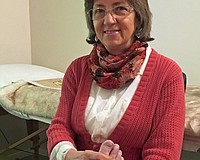 t's an ancient practice that claims better health with use
Tired and aching feet? How about back pain, respiratory conditions, digestive problems, headaches or migraines, or insomnia? Salem resident Christine Schmid offers her clients a holistic method for maintaining good health: reflexology.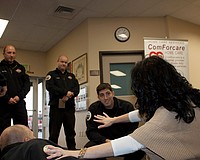 Local first responders are becoming dementia-savvy, thanks to a unique training program through ComForCare. "While we provide care for individuals of any age, seniors make up the bulk of our client base," says Lauren Heinatz, transitions director and trainer for the classes. "Age is one of the biggest risk factors for most types of dementia to develop. With our aging population and people living longer, we as a nation, including our local community, have reached a crisis point."
The most powerful gift you could give to your family this holiday season may not be wrapped up in a bow, but it could save a life. When you see your family during the holidays, you have a unique opportunity to compile family medical histories, which could make a difference for your children and grand-children in the future.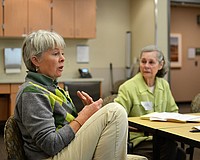 Why is it that so many of us are able to console a friend with kind words but are unable to do the same for ourselves? It would take an entire book to answer that question. So many are hard on themselves, living a lifetime of shame and guilt, or driving themselves toward perfection and acceptance. Or maybe to prove themselves to their parents. An eight-week mindfulness self-compassion program is helping thousands all over the world to change their self-destructive patterns.
Previous Next