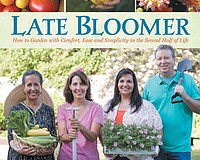 In this last month of 2016— yes, I'm also wondering where the year went — I thought I'd inspire you with a little armchair gardening. While I don't read garden books as much as I did when I was new to gardening, I still enjoy a good read now and then. My favorite books are ones that are personal, taking me inside the gardener's head to understand her thought processes and her vision. If the book is superior, it's because I've forged a connection and see myself in her.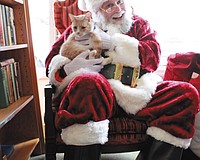 For Salem Friends of Felines, the holiday season is simply "meow-velous." "Kittens are in high demand come holiday season," says Heather Clark, SFOF's director of marketing and fundraising. "Unfortunately, the breeding season, also known as the kitten season, is generally over by the time the holidays come so there are very few available. We do, however, have many young adults and senior (kitties) deserving of love waiting for find homes year-round." Although many people like choosing a feline "gift" for their loved ones, SFOF prefers adopters meet the kitty in person to make sure there is chemistry between them, Clark says.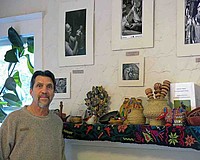 While it may take a village to raise a child, it's taken a photographer to show who works and how in a Mexican village. Corvallis resident Richard Keis spends about half a year in Oregon and the remaining six months — usually during the winter — in Mexico. His pictures feature the denizens of a couple of villages and their careers. These include black and silver smiths, cloth and palm weavers, a tanner, an organ grinder, a tavern owner, a bird seller and even a papier-mache puppet maker.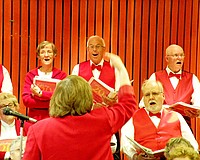 Fun happens when friends get together to sing. "Spreading joy through music gives meaning to my life," says Jerry Jeffreys, one of many "best friends" singing in the all-volunteer, mixed-voice choir, Just for Fun Singers.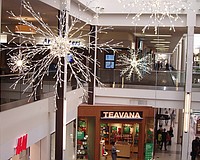 'Twas the wee hours in early November when, throughout the Portland-Vancouver area, just a few creatures were stirring — among them a crew at Vancouver Mall, who hustled and bustled to transform the sprawling building with a festive collection of holiday lights and decorations. This year's display, themed "Winter Wonderland," includes icicle lights; oversize, lighted, decorative snowballs; large wreaths; and garland swags. The display builds on a centerpiece familiar to Vancouver Mall shoppers in years past: Santa's Wish House, where youngsters share with the North Pole's most famous resident what's on their Christmas list.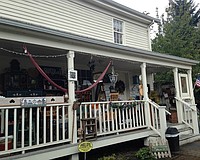 Looking for unusual holiday decorations, the perfect gift for the person with everything, or a one-of-a-kind toy for a grandchild? Instead of heading to the crowded mall, consider a trip to an antiques shop. Buying collectibles and antiques is a way of "green' shopping, or recycling and reusing goods from yesteryear. It's great fun to poke around in a shop as you never know what hidden treasure you'll discover: a piece of jewelry, wacky knick-knack, vintage wooden toy, or a pretty crystal bowl. And, there is always the remote possibility of having an Antiques Roadshow experience when that $5 vase turns out to be worth $5,000.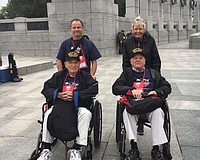 With wheelchairs, walkers and canes, 42 World War II veterans from Oregon recently visited war memorials in Washington, D.C., — some for the first time — on four overcast days. Welcomed in the Capitol by Congressman Greg Walden, the gray-haired group moved slowly, touching names of the fallen on black walls, passing precise lines of white tombstones standing at attention in Arlington, and watching fellow Oregon veterans lay a wreath at the Tomb of the Unknown Soldier.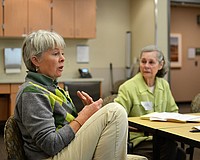 Why is it that so many of us are able to console a friend with kind words but are unable to do the same for ourselves? It would take an entire book to answer that question. So many are hard on themselves, living a lifetime of shame and guilt, or driving themselves toward perfection and acceptance. Or maybe to prove themselves to their parents. An eight-week mindfulness self-compassion program is helping thousands all over the world to change their self-destructive patterns.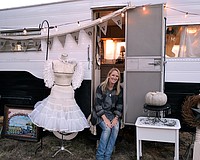 For Jen Tapscott, "one man's junk is another man's treasure" is more than a cliché, it's a way of life. For years, she has enjoyed the creativity of taking something old and making use of it, often in a totally new way. Salvage-seekers seem to find themselves in one of two categories: those who peruse shops and fairs, on the hunt for that something-special, for themselves or as a one-of-a-kind gift; and the artists who possess the drive, skill and eye for discovering and innovating rubbish into treasurers.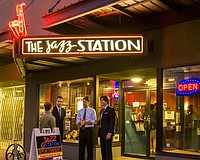 If you're feeling like jazz clubs are few and far between in Oregon, you're not alone. With only one jazz club left in Portland, Eugene's Jazz Station has filled a niche jazz lovers are looking for.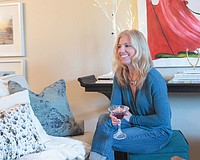 Making seasonal changes to your home is more than just getting out the Christmas decorations. Interior designer Dulce Roberto says making seasonal changes to your home's interior is no different than wardrobe changes when summer turns to fall, and fall turns to winter — you're taking out your gloves and coats, and putting away flip flops and short-sleeve shirts.
To say that humans are a creature of habit is not just a cliché, it's a scientifically pro-ven statement. All mammals, including humans, are subject to circadian rhythms, which are regular changes in mental and physical characteristics that occur in the course of a day.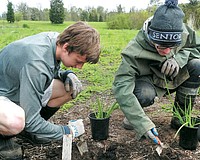 Lane County's landscape didn't always look like it does today. In fact, Alton Baker Park once was a homestead and area for raising cattle. And while volunteers with Walama Restoration Project don't expect the park to return to its roots, they are doing what they can to restore some of the landscape.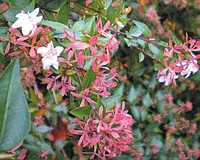 I admit I'm a plant-a-holic. I'm always checking out new introductions and what's on sale, fantasizing about what new plant I can stuff into my already overly-stuffed borders.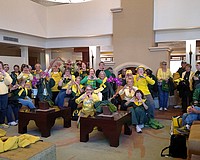 The Daisy Ducks luncheon can start out a bit chaotic. Clusters of women dressed in Duck yellow and green converge on the Eu-gene Hilton for their weekly Tuesday meeting where they begin setting up Duck "spirit jewelry" and other raffle times, along with membership tables.
Previous Next