With spring renewal upon us, the U.S. Department of Agriculture's Food Safety and Inspection Service invites home cooks to gain kitchen confidence by refreshing their perspectives on food safety. The Centers for Disease Control and Prevention (CDC) estimates that each year approximately 48 million Americans suffer from foodborne illnesses, leading to 128,000 hospitalizations and 3,000 deaths. Many of these illnesses can be prevented by changing behaviors in the kitchen and gaining a little kitchen confidence.
May is National Asian Pacific American Heritage Month and to honor the rich diversity and contributions made, the Oregon State Capitol will be hosting Exploring Oregon's Heritage: Asian and Pacific Islander Day at the Capitol on Saturday, May 20 from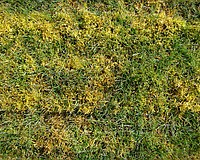 During a rainier-than-usual winter and spring, moss eagerly invaded lawns and made itself at home. The plush, low-lying plant doesn't get many neutral reactions. People either love it or hate it. Probably more fall on the hate-it side of the fence when it lands in their lawns. That's why Alec Kowalewski, turfgrass expert for Oregon State University Extension Service, gets so many questions about how to get rid of the flowerless plant that dates to ancient times.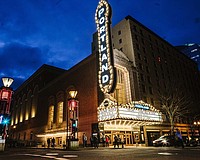 An Oregon icon is set for a major tune-up as Metro renovates the famous "Portland" sign on Broadway at the Arlene Schnitzer Concert Hall.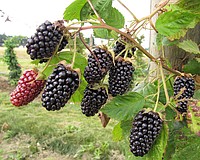 No matter how muddy the spring, it's time to slip on your boots and gloves and take care of blackberries and raspberries. Established red raspberries, including Meeker, Cascade Delight and Vintage; black raspberries such as Jewel; and blackberries like Marion, Boysen, Columbia Star, Navaho, and Triple Crown, need some care in early spring in order to stay healthy and productive.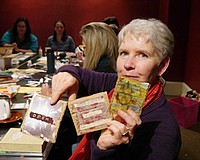 Dee Anna Morgan has been an arts and crafts gal as far back as she can remember. "We are neighbors with Jessica Ramey, and one day she sent me a Facebook invite to 'like' the Free Art Friday page," says Morgan, who lives with her husband Hugh in South Salem.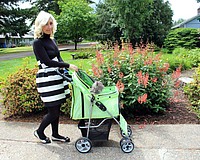 Pet owners know first-hand that dogs and cats love unconditionally; they are there when the person needs a hug or a smile. This love and acceptance make dogs and cats ideal therapeutic visitors for the elderly and disabled in nursing homes and care facilities.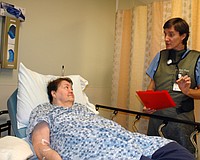 Sarah Gradis' patient was an older woman experiencing chronic pain, primarily in her back and legs. The woman was independent, lived on her own and was reluctant to ask her family for help with everyday tasks. But she was having difficulty with things like housework, and was feeling increasingly isolated and concerned she might fall.
Listen to your heart sounds
Heart disease is still the leading cause of death in the United States. But there are many ways to prevent and proactively treat it. It's time to educate ourselves on being in tune with some silent indicators of heart disease.
Elizabeth Woody is the first American Indian to be named poet laureate of Oregon. She has overcome many obstacles to earn multiple advanced degrees, share her poetry and art, and voice her support for many causes.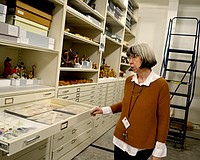 As warehouses go, a nondescript building in Philomath looks as expected. But walk inside, and find thousands of artifacts — from a wooden loom and old-fashioned carriages, to vintage cars, wheelchairs and even a mastodon. Carefully stored and archived, these relics were rescued by the Benton County Historical Society from a tax law that surely meant their demise.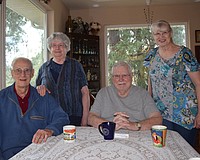 When Sherm Sallee's doctor asked if he was watching his carbohydrates, he replied, "Sure. I watch the maple bar all the way to my mouth." Since receiving a diagnosis of pre-diabetes and taking the Diabetes Prevention class at Samaritan Lebanon Community Hospital, Sherm has taken the maple bars out of his diet.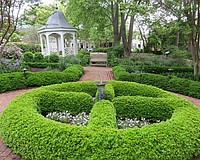 Along with a new president, there are plenty of other changes and recent additions to the Washington, D.C., visitors' scene.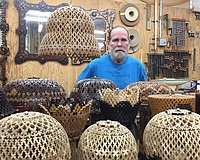 Roger Beck has 4,000 square feet of space in his wood shop, but only 248 square feet in the housetruck he used to live in. One section of his woodshop is devoted to lamps fabricated out of small wooden tiles glued together, a past-time which Beck considers therapy for his Parkinson's, because of the fine motor skills they take to create.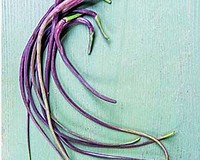 At this time of year when I'm dreaming of summer garden days but the weather is still not quite as hospitable as I'd prefer, I like to scope out new plants and possibilities for my garden. Although I'm more drawn to ornamentals, it's also fun to see the new and unusual edibles that are out there as well. Recently, while perusing various seed company websites, I was particularly drawn to purple vegetable plants.
Previous Next