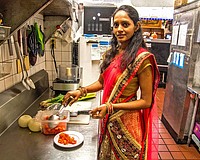 American appetites used to be primed for TV dinners, casseroles and fast food. College students still live on ramen, and kids seem to be addicted to burgers and fries. But over the last few decades, our palates appear to be looking toward more exotic foods, from sushi to Indian cuisine.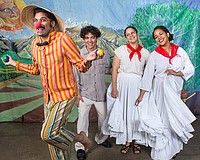 Milagro Theater will be "clowning around" for its next performance, but not in the way you might think. The multi-lingual Latino theater group presents "El Payaso," or "The Clown," on its southeast Portland stage Jan. 12 to 21. It's a tribute to Ben Linder of Portland, a pied piper of sorts who used his clowning skills to help lead children in Nicaragua to health clinics in the 1980s. He was killed by the Contras in 1987.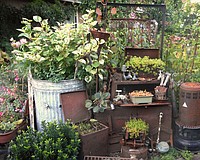 When the bulbs are planted, the leaves are raked and the mulch is spread, some gardeners will retreat indoors to pursue more cozy pursuits. This is understandable since the weather can be so inhospitable this time of year. But some of us don't really mind the elements, within reason, of course. Because the garden is at its most minimal structurally, it's a great time to fiddle with garden art — move things around and fine-tune the vignettes.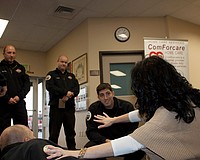 Local first responders are becoming dementia-savvy, thanks to a unique training program through ComForCare. "While we provide care for individuals of any age, seniors make up the bulk of our client base," says Lauren Heinatz, transitions director and trainer for the classes. "Age is one of the biggest risk factors for most types of dementia to develop. With our aging population and people living longer, we as a nation, including our local community, have reached a crisis point."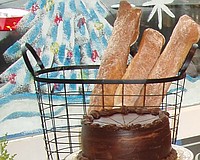 Bleu Door Bakery employs a forward-thinking model
Entrepreneur Bonnie Brasure turns her wrist over and smiles. Tattooed on the inside of her arm is the word "Leap." It has deep meaning for Brasure, owner of Vancouver's award-winning Bleu Door Bakery. "Leap," she says, embodies her belief that she can accomplish anything she sets her mind to.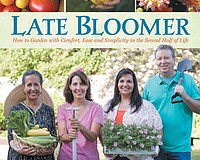 In this last month of 2016— yes, I'm also wondering where the year went — I thought I'd inspire you with a little armchair gardening. While I don't read garden books as much as I did when I was new to gardening, I still enjoy a good read now and then. My favorite books are ones that are personal, taking me inside the gardener's head to understand her thought processes and her vision. If the book is superior, it's because I've forged a connection and see myself in her.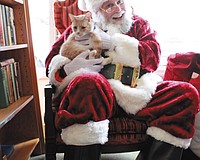 For Salem Friends of Felines, the holiday season is simply "meow-velous." "Kittens are in high demand come holiday season," says Heather Clark, SFOF's director of marketing and fundraising. "Unfortunately, the breeding season, also known as the kitten season, is generally over by the time the holidays come so there are very few available. We do, however, have many young adults and senior (kitties) deserving of love waiting for find homes year-round." Although many people like choosing a feline "gift" for their loved ones, SFOF prefers adopters meet the kitty in person to make sure there is chemistry between them, Clark says.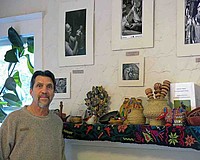 While it may take a village to raise a child, it's taken a photographer to show who works and how in a Mexican village. Corvallis resident Richard Keis spends about half a year in Oregon and the remaining six months — usually during the winter — in Mexico. His pictures feature the denizens of a couple of villages and their careers. These include black and silver smiths, cloth and palm weavers, a tanner, an organ grinder, a tavern owner, a bird seller and even a papier-mache puppet maker.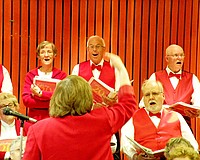 Fun happens when friends get together to sing. "Spreading joy through music gives meaning to my life," says Jerry Jeffreys, one of many "best friends" singing in the all-volunteer, mixed-voice choir, Just for Fun Singers.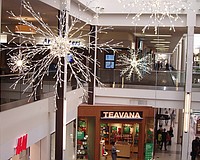 'Twas the wee hours in early November when, throughout the Portland-Vancouver area, just a few creatures were stirring — among them a crew at Vancouver Mall, who hustled and bustled to transform the sprawling building with a festive collection of holiday lights and decorations. This year's display, themed "Winter Wonderland," includes icicle lights; oversize, lighted, decorative snowballs; large wreaths; and garland swags. The display builds on a centerpiece familiar to Vancouver Mall shoppers in years past: Santa's Wish House, where youngsters share with the North Pole's most famous resident what's on their Christmas list.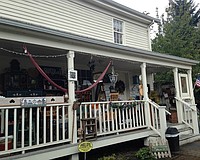 Looking for unusual holiday decorations, the perfect gift for the person with everything, or a one-of-a-kind toy for a grandchild? Instead of heading to the crowded mall, consider a trip to an antiques shop. Buying collectibles and antiques is a way of "green' shopping, or recycling and reusing goods from yesteryear. It's great fun to poke around in a shop as you never know what hidden treasure you'll discover: a piece of jewelry, wacky knick-knack, vintage wooden toy, or a pretty crystal bowl. And, there is always the remote possibility of having an Antiques Roadshow experience when that $5 vase turns out to be worth $5,000.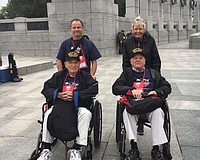 With wheelchairs, walkers and canes, 42 World War II veterans from Oregon recently visited war memorials in Washington, D.C., — some for the first time — on four overcast days. Welcomed in the Capitol by Congressman Greg Walden, the gray-haired group moved slowly, touching names of the fallen on black walls, passing precise lines of white tombstones standing at attention in Arlington, and watching fellow Oregon veterans lay a wreath at the Tomb of the Unknown Soldier.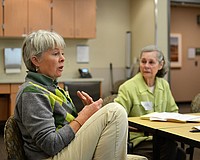 Why is it that so many of us are able to console a friend with kind words but are unable to do the same for ourselves? It would take an entire book to answer that question. So many are hard on themselves, living a lifetime of shame and guilt, or driving themselves toward perfection and acceptance. Or maybe to prove themselves to their parents. An eight-week mindfulness self-compassion program is helping thousands all over the world to change their self-destructive patterns.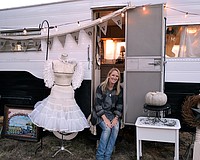 For Jen Tapscott, "one man's junk is another man's treasure" is more than a cliché, it's a way of life. For years, she has enjoyed the creativity of taking something old and making use of it, often in a totally new way. Salvage-seekers seem to find themselves in one of two categories: those who peruse shops and fairs, on the hunt for that something-special, for themselves or as a one-of-a-kind gift; and the artists who possess the drive, skill and eye for discovering and innovating rubbish into treasurers.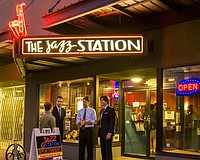 If you're feeling like jazz clubs are few and far between in Oregon, you're not alone. With only one jazz club left in Portland, Eugene's Jazz Station has filled a niche jazz lovers are looking for.
Previous Next