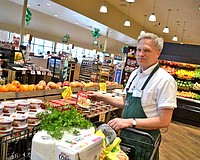 Hungry, but no time to roam the aisles of the grocery store? Local grocery outlets are now offering ways for customers to shop without coming into their stores.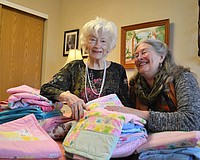 Dorothy Wallace Foisy sews baby quilts — a lot of them. Often, two a day. In fact, since September, she has sewn 50 blankets. But as she sits among the blankets, folded neatly on the bed by her daughter Lynn Walker, Foisy picks up a blanket, unfolds it, strokes the pink fleece and comments, "Who made these?"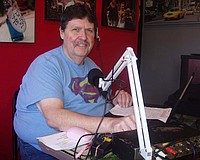 Gerald Gaule was just a boy when he had his first on-air experience in radio. He was at the Clark County Fair in southwest Washington when he came upon a radio station disc jockey broadcasting remotely. Gaule, already a fan of radio who loved to listen to his shortwave and create radio shows at home, watched and listened to the DJ for two or three hours.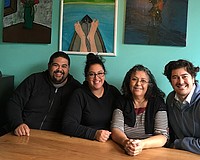 When Viola Lopez's son Checo wanted to start a business 17 years ago, this mother tossed out a challenge: "Decide what you can do and make money fast." At the time, 22-year-old Checo had been working at a car renta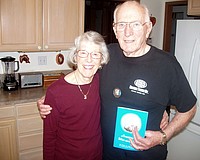 A chance conversation among teenagers in an ice cream parlor led Harry Hendricks not only to contribute to America's war effort, but learn lifetime job skills. It happened in 1943, when Hendricks — barely a teen himself — struck up a conversation with another teen working at the bustling shipyards run by businessman Henry J. Kaiser on the north side of the Columbia River, where thousands of workers were churning out U.S. military vessels during World War II.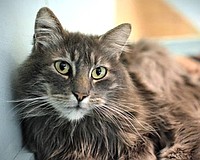 Faced with a major influx of cats from the public, the Oregon Humane Society is cutting adoption fees by half for all cats six years and older through April 30.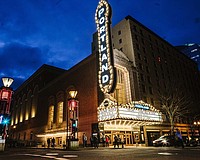 An Oregon icon is set for a major tune-up as Metro renovates the famous "Portland" sign on Broadway at the Arlene Schnitzer Concert Hall.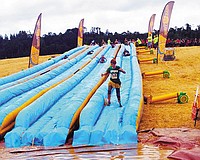 Paula Free has her sights set high when it comes to empowering any individual challenged with a life-limiting disability. But she's especially passionate toward helping those living with limb loss.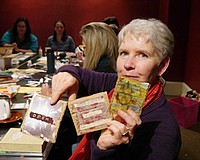 Dee Anna Morgan has been an arts and crafts gal as far back as she can remember. "We are neighbors with Jessica Ramey, and one day she sent me a Facebook invite to 'like' the Free Art Friday page," says Morgan, who lives with her husband Hugh in South Salem.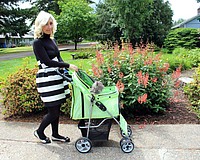 Pet owners know first-hand that dogs and cats love unconditionally; they are there when the person needs a hug or a smile. This love and acceptance make dogs and cats ideal therapeutic visitors for the elderly and disabled in nursing homes and care facilities.
Elizabeth Woody is the first American Indian to be named poet laureate of Oregon. She has overcome many obstacles to earn multiple advanced degrees, share her poetry and art, and voice her support for many causes.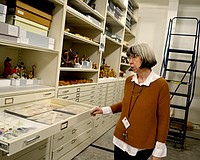 As warehouses go, a nondescript building in Philomath looks as expected. But walk inside, and find thousands of artifacts — from a wooden loom and old-fashioned carriages, to vintage cars, wheelchairs and even a mastodon. Carefully stored and archived, these relics were rescued by the Benton County Historical Society from a tax law that surely meant their demise.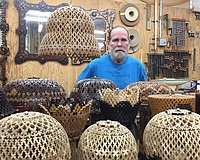 Roger Beck has 4,000 square feet of space in his wood shop, but only 248 square feet in the housetruck he used to live in. One section of his woodshop is devoted to lamps fabricated out of small wooden tiles glued together, a past-time which Beck considers therapy for his Parkinson's, because of the fine motor skills they take to create.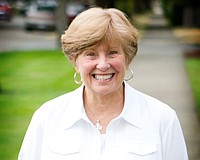 After 40 years of ministry in the Salem area, Barbara Fletcher is retiring — but not without a well-earned title: Patron Saint of Encouragement. The title was given to Fletcher by a friend who watched her serve in multiple ministry roles over the years at Salem Alliance Church. The friend observed Fletcher being one to many people, helping and praying for those who were troubled, and training and cheering on numerous leadership teams.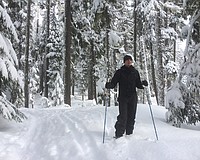 If you love hiking in the high country — viewing miles of breath-taking vistas, breathing in the clean mountain air and enjoying the quiet enchantment of the forest — don't let the winter snow keep you indoors until the spring thaw. Make this the year you try snowshoeing.
Previous Next